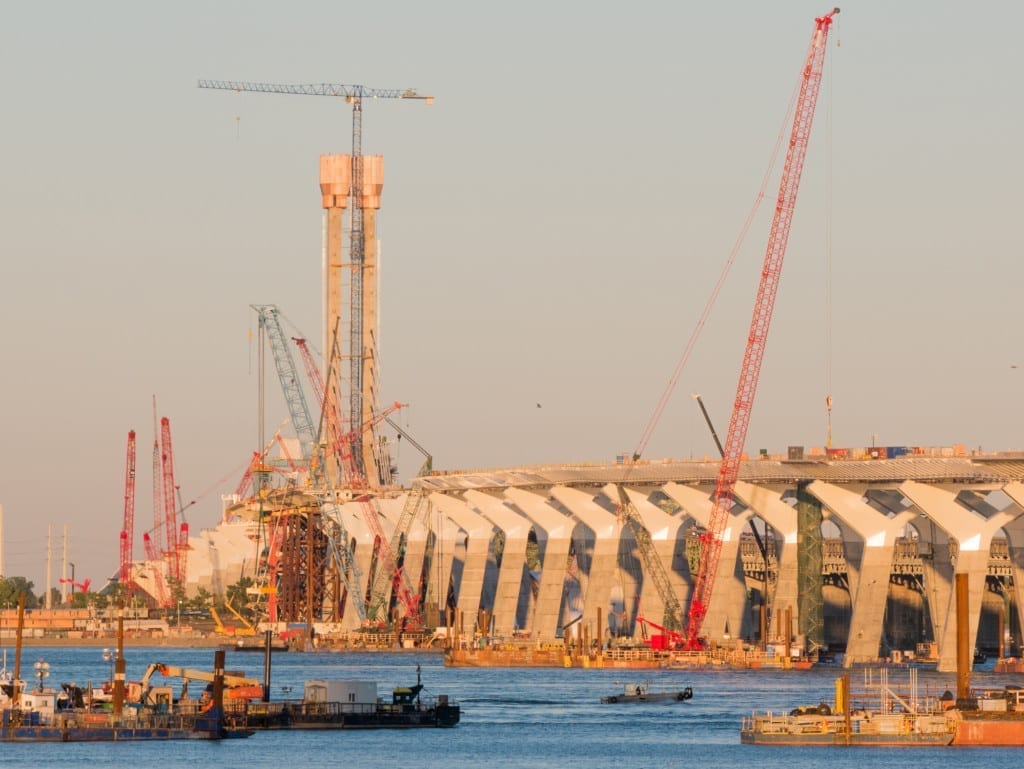 The Champlain Bridge is one of the largest infrastructure projects in North America and was completed and opened on July 1st, 2019. This structure was created using 3D modeling techniques that are learned in an engineering design technology education. The new bridge has a design life of 125 years and is a new landmark image in Montreal, stretching across the Saint Lawrence River. This bridge replaced the prior Champlain Bridge, with 4km of highway congestion. As one of the busiest sections of highway in the country, this passage is key to the Canadian economy. Read on to learn more about the process behind this magnificent structure.
Design-Build Projects in a Career in Engineering Design Technology
The previous Champlain Bridge began to show signs of deterioration in 2013. Construction of the new bridge started in 2015, on a 42 month timeline. As one of the country's biggest worksites with an ambitious construction timeline, being able to coordinate between design and construction was invaluable. Design-build projects allow for the construction and design processes to take place simultaneously. This enhances opportunities for optimization and connects design to fabrication.
Communication is an element of project coordination that cannot be overlooked. When communication of ideas or data breaks down, projects can fall behind or have flaws that create extra steps. In an engineering design technology program, you learn to work alongside various professionals to communicate design data. These skills are essential to projects using design-build systems, as communication is ongoing and multiple project elements are connected throughout the timeline of construction. Learning these skills is not only an investment in yourself, but in a brighter future for building projects.
The Importance of 3D Modeling in a Technical Design Training Curriculum
3D modeling was used in the creation of the new Champlain Bridge, allowing for the design-build process to run smoothly and effectively. With 3D modeling, images can be manipulated and revised throughout fabrication and construction, allowing for use of feedback and constant evaluation of the project.
Multiple people working on a project can access digital images, which allows for ease of collaboration and coordination between departments. When the Champlain Bridge was being constructed, 3D modeling allowed for interaction with stakeholders. In various projects, this type of imaging provides a way to easily interact with customers and give them information to make worksite preparations based on design.
Your career in engineering design technology will make use of the skills you have as an effective communicator, using technology you are trained with. By ensuring that accurate and important data is properly outlined, you can help large projects stay on track and make sure everyone has the information they need to succeed.
Lean Project Design and Engineering Design Technology
A large part of the Champlain Bridge project's vision was to keep the process lean and efficient. Jetties were built in the Saint Lawrence River to further optimize the project on a short timeline. The largest jetty enabled prefabrication of concrete and assembly steel parts. While some parts were assembled off-site, a portion were able to be done on the jetty right at the construction site. Jetties also served as docks for required vessels, as well as allowing for simultaneous construction on various sections of the bridge.
Computer Aided Design (CAD) has had a large effect on optimization and efficiency in building projects. Digital materials, the ability to instantly manipulate or demo changes, and the accessibility of data to a large group of people at once all make projects leaner. After technical design training, you will be a valuable asset in various industry environments, as you serve as a link between project design and physical creation.
Your career awaits.